Press Releases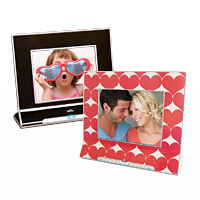 With daily photo updates and easy photo-sending options, CEIVA frames are perfect for keeping connected in long-distance relationships.
Download this image:
high resolution
|
low resolution
view more photos
FOR IMMEDIATE RELEASE
Digitize Your Love All Year Long!

CEIVA Connected Photo Frames™ are the Perfect Gift for Valentine's Day!
New Photo Import Features & CEIVA Snap Application for Android Phones & iPhones Makes it Easy to Stay Connected On the Go
Burbank, CA – CEIVA Logic, Inc., the inventor and supplier of the leading connected photo frame presents the perfect way to digitize your love this Valentine's Day! Stay connected with those you love the most – from anywhere all year long – by getting your love a CEIVA Connected Photo Frame. Displaying cherished photos of your romantic getaways, wedding memories and treasured times together, CEIVA Frames will keep the love going between you and your special someone, whether your valentine is close at home or traveling abroad.
CEIVA Connected Photo Frames feature modern and traditional designs ideal for any décor and connect via phone or optional Wi-Fi. With the magic of CEIVA's PicturePlan® Photo Delivery Service, CEIVA frames automatically connect to receive and display new photos sent anytime from anywhere. Your sweetheart will wake up to new photos from you no matter where you are in the world. Plus, with great features like the CEIVA Snap Android phone and iPhone applications, it's easy to share photos and stay in touch while you're out and about — just snap a picture with your smart phone and send it directly to the frame. Once photos are automatically downloaded to the frame, CEIVA's signature blue light will flash indicating that new photos have arrived in a full-color slideshow. CEIVA members can also invite their friends & family to send photos to their frame. Guests get a free account and everyone can take advantage of CEIVA's new photo import features. Users can now import photos from photo sharing sites like Flickr, Facebook, Picasa, Shutterfly and more.
To celebrate Valentine's Day, you can purchase a CEIVAshare Connected Photo Frame™ with one-year of PicturePlan for $99.95 and a CEIVAPro 80 Connected Digital Frame™ with one- year of PicturePlan for $119.95. Free ground shipping is also available for orders over $99.00. Buy any two frames and get an additional $10 off your order; $20 off when buying three! (Pictured: optional CEIVA Custom Design heart from SkinIt.com is $29.99.)
Show how much you care by giving a CEIVA to someone you love. For more information contact CEIVA's U.S. based Customer Care Team toll-free at 1-877-692-3482 or go to www.ceiva.com
About CEIVA Logic, Inc.
CEIVA, www.ceiva.com, (see-va) the inventor of connected digital photo frames, provides lifestyle-enhancing products that enable families and friends to automatically share and display an endless slideshow of all their treasured photos. CEIVA Digital Photo Frames™ with PicturePlan® allow members to send photos directly to the frame from anywhere in the world, store an unlimited number of photos online and enjoy the worry-free PicturePlan® Lifetime Warranty. Patented technology exclusively from CEIVA is designed for every generation to use with ease so that daily photo sharing is always a rewarding experience. CEIVA products are available at ceiva.com and at select retailers. CEIVA headquarters are located in Burbank, CA.
Contact Information:
CEIVA Logic
214 E. Magnolia Blvd.
Burbank, CA 91502
phone: 818-562-1495
fax: 818-562-1491
press@ceiva.com