Press Releases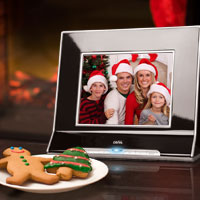 Don't wait for Santa Claus to bring joy on Christmas Day. Give instant delight to your friends and family all year long!
Download this image:
high resolution
|
low resolution
view more photos
FOR IMMEDIATE RELEASE
Joy to Your World…Instantly!
CEIVA® HOLIDAY SALE STARTS TODAY!
New Product Features Include Foodista Channel!
Burbank, CA – November 16, 2011 - CEIVA Connected Photo Frames, faster than a reindeer powered sleigh, bringing happiness to your life all year long! This holiday season take the cliché of "giving" to the next level by providing your loved ones with the gift of CEIVA. CEIVA Connected Digital Photo Frames bring the joy, warmth and surprise that Santa Claus works so hard to deliver once a year - all year round. And the best news? CEIVA frames are on sale beginning today! You can get a CEIVA with a one-year photo sharing service for under $100. And more good news…CEIVA now offers the Foodista Channel with every service subscription…
CEIVA frames are the only picture frames that update automatically through a phone line or WIFI connection each night. So instead of having to sneak your way down a chimney in the wee hours of the night in an attempt to bring some happiness to your loved ones, CEIVA frames do all the work for you. When your photos appear in your family's living room, there's only one word for it: "Magical."
With CEIVA's practical PicturePlan® Photo Delivery Service, your circle of family and friends can enjoy an endless automatic display of photos sent from everyone, from anywhere — even from a camera phone, email, your Facebook and more. You'll receive an unlimited photo storage account at www.ceiva.com, photo customization tools, and the ability to send photos and written greetings — straight to your community of CEIVA frames—– all year long. With the PicturePlan Lifetime Warranty, your CEIVA will always be replaced or fixed for free for as long as you have the service. Everyone can connect by either Wi-Fi, Ethernet or telephone line (for those without computers — like grandpa!). Members can also invite anyone else to create a free photo storage account at ceiva.com and send photos — even if they do not own a frame. Everyone can utilize CEIVA'S U.S. based toll-free Customer Care line at 1-877-692-3482.
CEIVA Customer Care is available to assist customers Monday through Saturday during the holiday season, including Saturday, December 24 and also on Sunday, December 25, 2011. The simple three-step connection instructions guide through registering your CEIVA, plugging everything in, and finding the Connection Wizard on your frame. Once connected, your family and friends will love sharing photos during the holidays and throughout the year. Start creating your "Picture Perfect" memories during the holidays with CEIVA Connected Photo Frames! For more information on products and special offers, visit www.ceiva.com
About CEIVA Logic, Inc.
CEIVA, www.ceiva.com, (see-va) the inventor of connected digital photo frames, provides lifestyle-enhancing products that enable families and friends to automatically share and display an endless slideshow of all their treasured photos. CEIVA Digital Photo Frames™ with PicturePlan® allow members to send photos directly to the frame from anywhere in the world, store an unlimited number of photos online and enjoy the worry-free PicturePlan® Lifetime Warranty. Patented technology exclusively from CEIVA is designed for every generation to use with ease so that daily photo sharing is always a rewarding experience. CEIVA products are available at ceiva.com and at select retailers. CEIVA headquarters are located in Burbank, CA.
Contact Information:
CEIVA Logic
214 E. Magnolia Blvd.
Burbank, CA 91502
phone: 818-562-1495
fax: 818-562-1491
press@ceiva.com