Customer Care
How do I send pictures to another person's CEIVA frame?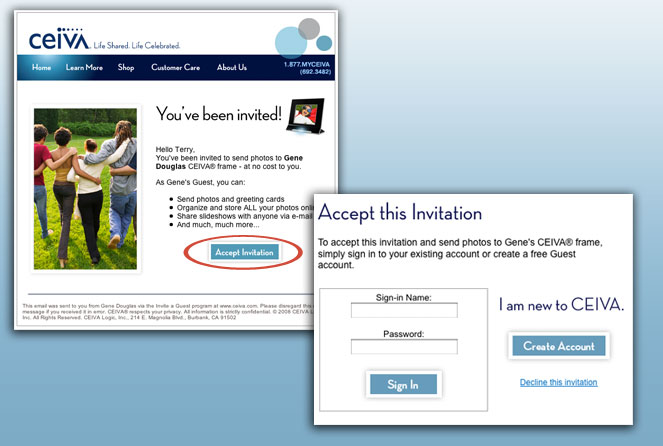 Once you are invited to send to a CEIVA frame, you will get an email. Follow the link the email to accept the invitation and either log in to your ceiva.com account or create a new account.
You will be added automatically to the guest list and can use the Upload Photos tool on ceiva.com or any of CEIVA's software and plugins to send photos. Only Guests on a CEIVA frame's Guest list can send photos, so CEIVA frames is always secure and spam-free.
Please note: The CEIVA frame owner must have an e-mail address in their account for the Invite a Guest feature to work.
< Previous
Contact Us
1-877-692-3482
CEIVA Logic Inc.
303 N Glenoaks Blvd STE 200
Burbank, CA 91502
Customer Care Hours
Monday-Friday
9:00 am - 4:00 pm PT