CEIVA® - Inventors of the Digital Photo Frame™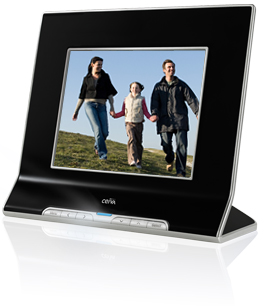 In 2000 CEIVA Logic, Inc. was founded by former Disney executives with a pioneering vision: to bring the world together through the power of digital photography. Industry leaders then and now, CEIVA was the first company to invent and market digital photo frames. Their award-winning, patented technology has positioned their product line as the premier choice in the marketplace.
Always at the forefront of industry breakthroughs, CEIVA continues to innovate advances in the way consumers see, share and store their digital photos.
Products and Services
It resembles a traditional picture frame, but CEIVA Digital Photo Frames™ are anything but traditional. Whether you're tech-savvy or not, you can enjoy a daily slideshow of digital photos from friends and family around the world or your own camera — without a computer.
It's all powered by our PicturePlan® Photo Delivery Service, our revolutionary technology that makes your CEIVA more than an ordinary photo frame. Learn more about PicturePlan and all it includes, or see and shop for our different frame models at our store.
Follow CEIVA on

Facebook and

Twitter for the latest company, software, and product announcements.