How to Connect Your CEIVA Frame
Featured Tutorial Video

See how setting up your frame, inviting guests, and managing your photos works with CEIVA.
Watch now
Contact Us
1-877-MYCEIVA
1-877-692-3482
Phone and Live Chat Hours:
Monday - Friday
8:00 am - 4:30 pm PT

Email us
Visit our forums
One of the most revolutionary features of PicturePlan® Photo Delivery Service is your CEIVA's ability to connect automatically to retrieve photos. Once you set up your first connection, new photos you've been sent will appear on your frame — you don't have to do a thing!
Learn more about our connection options:
Phone line Find a local dial-in number and connect through your land phone line.
Wireless Internet Use our CEIVA Wireless adapter or a Wi-Fi enabled CEIVA with your Wi-Fi network.
High-Speed/Broadband Use our CEIVA Broadband adapter with your high-speed internet connection.
First Time Connection Instructions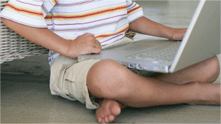 Step 1. Register Your CEIVA
Visit www.ceiva.com/gettingstarted and sign into your CEIVA account or create a new one to register your frame. Or simply call us toll-free at 1-877-692-3482 and we'll register it for you. You will need to know your CEIVA serial number (a 12-digit number).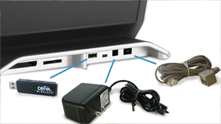 Step 2. Set Up Your Frame
Plug the power adapter and phone cord in the specified places on your frame (or wireless or broadband adapter into the C-Port) and into the appropriate wall outlets.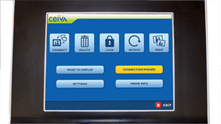 Step 3. Getting Connected
Highlight Connection Wizard in your frame's menu and push the Select button to be guided through setup. At the end, select Get Pictures Now and your CEIVA will be ready to receive photos.
That's it! For more assistance with any of these steps, search our Customer Care questions or call our U.S.-based Customer Care Team toll-free at 1-877-692-3482. Be sure to upload photos and invite guests in your CEIVA account to start getting photos on your frame. And take a look at our Photo Plugins and Software for information about photo sending options from Adobe, Facebook, Picasa, iPhoto, camera phones and more!