Customer Care
How do I send photos to a CEIVA frame via email/cellphone?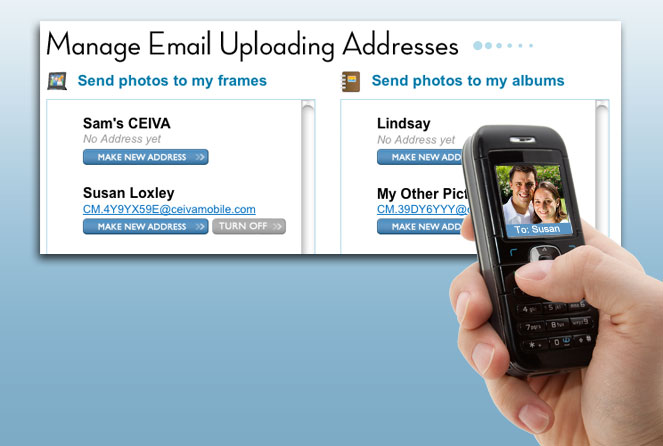 Attach a photo and send
Save your CEIVAMobile address in your Address Book, attach a photo to an email or text message, and send it straight to the frame!
Activating and using CEIVAMobile™
Go to the Manage CEIVAMobile page to make an email address for any CEIVA frame or album in your ceiva.com account. Turn CEIVAMobile on and click Apply. Your address will generate next to the name of the frame or album.*
Send an email or text message to this address with up to 10 photos attached. They'll appear in your ceiva.com account within 15 minutes and show up on your CEIVA frame the next time it connects to get new pictures.
*CEIVAMobile addresses are encrypted to avoid spam abuse. Generate a new address any time by turning this feature off and then on again.
Contact Us
1-877-692-3482
CEIVA Logic Inc.
214 E. Magnolia Blvd.
Burbank, CA 91502
Customer Care Hours
Monday-Friday
8:00 am - 4:30 pm PT