CEIVA International
Connect with your loved ones across the street and around the world! CEIVA® is proud to offer its revolutionary digital photo frames in partnership with select retailers worldwide. And our U.S.-based customer care team is happy to assist you set up your CEIVA and PicturePlan Photo Delivery Service no matter where you are.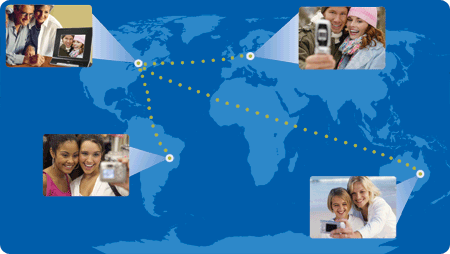 Please note: While CEIVA PicturePlan service may be purchased and activated by U.S., UK and Canadian customers at ceiva.com, CEIVA is currently unable to process the sale of frames, adaptors or accessories to customers outside of the U.S. on this site. All product sales must be through authorized local retailers.
One-button prints are not currently available outside of the US. Phone access is not available outside of U.S. or Canada.
CEIVA offers a limited number of local phone numbers for dial-up connection in Canada. We also provide 800 numbers for toll-free service plans. See a full list of the available numbers here. CEIVA products and service are currently supported in the U.S., Canada and United Kingdom only.
Are you a retailer interested in carrying CEIVA products?
We are always working to spread the CEIVA experience worldwide. Please contact us via email for more information.
internationalsales@ceiva.com