Customer Care
How do I remove pictures that are showing on my CEIVA frame?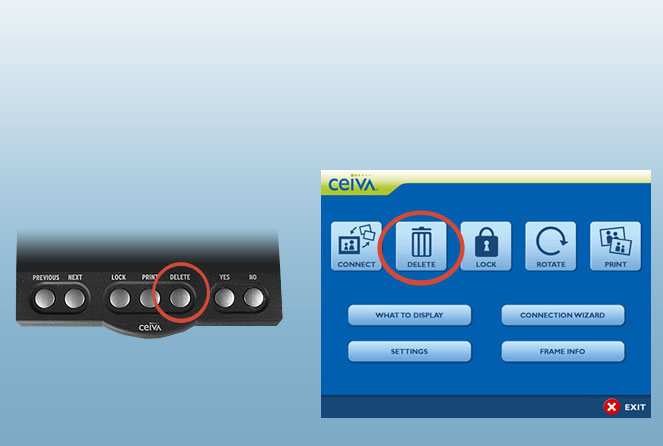 CEIVA 2 and 3
Press the Delete button on the button tray on the front of your CEIVA frame.
All Other Models
Press the Menu button on your CEIVA frame or remote, highlight Delete, and press Select.
How to remove a photo from your slideshow
Select the Delete option on your CEIVA frame to remove any photo.* This will hide the photo from view until your CEIVA frame connects again, at which point any delete request will be communicated and it will be removed permanently.
To show a deleted photo again, scroll with the Left or Right Arrows on your CEIVA frame or remote to locate the photo, press Menu, then select the Undelete option.
You can also delete photos from your account at ceiva.com. Go to the Now Showing Queue on your My Frames page, highlight any photo, and select the Delete option.
* The CEIVA 1™ model does not have Delete functionality.
Contact Us
1-877-692-3482
CEIVA Logic Inc.
303 N Glenoaks Blvd STE 200
Burbank, CA 91502
Customer Care Hours
Monday-Friday
9:00 am - 4:00 pm PT