Customer Care
How do I use CEIVA Snap for Android?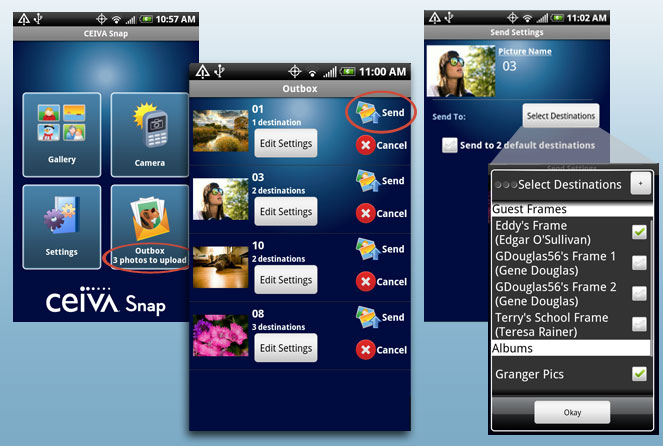 Send, Edit and Delete Photos from the Outbox
To send the photo to its prescheduled destinations, press the Send button next to any photo. To remove a photo from your Outbox, press the Cancel button next to any photo.
To edit the caption or select new destinations, press Edit Settings You can add or edit the caption for the photo and select the destination CEIVA albums and CEIVA frames you'd like to send it to. (You can add a new album with the plus sign in the top right corner of the Select Destinations screen.) Then press Okay.
< Previous
Next >
Contact Us
1-877-692-3482
CEIVA Logic Inc.
303 N Glenoaks Blvd STE 200
Burbank, CA 91502
Customer Care Hours
Monday-Friday
9:00 am - 4:00 pm PT