Feature Suggestions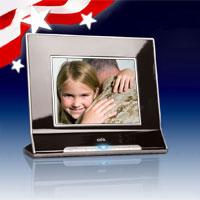 Keep yourself and your family connected with CEIVA. Send photos directly to your frames back home!
Download this image:
high resolution
|
low resolution
view more photos
CEIVA® Keeps Military Families Connected
Imagine being stationed overseas as a member of the United States Military – worlds away from family and friends. While serving the country, it is so important to have a reliable and easy way to stay connected with loved ones back home. That's why so many family members stay connected with CEIVA when they are oversees serving their country.
So how does it work? CEIVA frames receive photos sent from anywhere in the world – from camera phones, by email and from photo sharing sites like Facebook. Family members back home receive photos on their CEIVA frames automatically – without having to do a thing. With CEIVA'S patented PicturePlan® photo sharing service, frames connect via WIFI or through a telephone line. All frames come with a one-year service plan and annual plan renewals are available thereafter. A dedicated Customer Care team based in the U.S. is available weekdays to assist families with their set-up needs.
Erica Pena, military spouse and author of GuidetoMilitaryTravel.com, lists CEIVA as one of her "Top 10" must-have products. "This is a product I don't know how I ever lived without," Pena says. "Every military family (including grandparents) should have one."
To honor those in the military and to help keep military families connected, CEIVA is offering a special discount on CEIVA frames. For a limited time, Military personnel will receive $27 off each CEIVA Pro 80 purchased, and a 50% discount on the photo sharing service on each frame. Each new frame with one year of service is discounted to $119.95. Following the first year of the service plan, renewals are specially priced at $49.95 per year. All frames come with a lifetime service warranty – as long as frames have an active service plan, CEIVA will replace or fix a broken frame for free!
CEIVA salutes America's Military personnel! For more information, go to www.ceiva.com/military or contact CEIVA toll-free in the United States at 1-877-692-3482 and mention CEIVA'S special discount for the U.S. Military.
About CEIVA Logic, Inc.
CEIVA, www.ceiva.com, (see-vuh) the inventor of connected digital photo frames, provides lifestyle-enhancing products that enable families and friends to automatically share and display an endless slideshow of all their treasured photos. CEIVA Digital Photo Frames™ with PicturePlan® allow members to send photos directly to the frame from anywhere in the world, store an unlimited number of photos online and enjoy the worry-free PicturePlan® Lifetime Warranty. Patented technology exclusively from CEIVA is designed for every generation to use with ease so that daily photo sharing is always a rewarding experience. CEIVA products are available at ceiva.com and at select retailers. CEIVA headquarters are located in Burbank, CA.