Feature Suggestions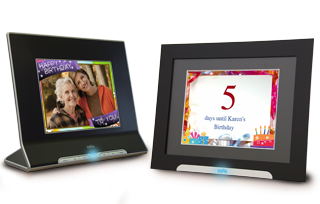 Happy Birthday, from CEIVA.
Get the gift that will keep you and your family and friends connected for years to come and have a happy birthday.
Capture their first day...

Have your little one's first day of school last forever with CEIVA.
Read more...
Blaze your own digital trail!

Tag each picture with a location in the world so friends and family can follow your trail!
Read more...
Give the perfect wedding party gift!

Give the wedding party gift that helps you stay in touch with your closest friends through shared memories.
Read more...
Give Mom, Dad, and Grad the perfect gift.

Reconnect with loved ones lost through distance and share your world with theirs!
Read more...
Take them on a digital vacation.
With CEIVA, your friends and family will see all the places you go, even if they can't be there with you!
Read more...
Get all the latest ESPN News.
Get the latest sports news, standings, and scores with ESPN Channels on your CEIVA frame!
Read more...
Create your own channels.

Make your own calendar on your frame, or count down to a special event with a slide a day.
Read more...
Keep your military family connected.

Use CEIVA Connected Frames to keep your military family connected no matter where in the world you are.
Read more...
More ideas, features, and benefits of CEIVA frames
Get local weather forecasts.

Use CEIVA's Weather Channel to get a three-day forecast for your hometown right on your frame, or see what the weather's like in your favorite vacation spot.
Window to Your World.

Give your family a "Window to Your World" with CEIVA Connected Digital Photo Frames. Keep close with all of your loved ones.
Read more...
Perfect for everyone. Even Grandma.

Grandparents don't even need a computer to connect, while techies will love media server connectivity, plugins for Facebook and more.
Digital Fashion.

With Skinit®,
you can style your frame with your favorite colors, Disney® characters, sports teams, college, or even make your own design!
Showcase any photo, no matter where it lives.
Friends can send photos, too.

CEIVA gives you an unlimited number of free invitations
for guests to send photos from anywhere in the world, so you can always stay connected.
Inventors of the Digital Photo Frame.

CEIVA Logic was founded by former Disney executives with a pioneering vision:
to bring the world together through the power of digital photography.
Mac or PC, iPhone or Facebook.

CEIVA creates an array of powerful photo sending software
for your smartphone, photo storage programs, and even online album sites like Facebook, Picasa and Flickr.
A secure, virus-free sharing solution.

CEIVA is by invitation only
, which means your frame is protected from viruses, ads and spam, and no one sends you photos unless you want them to.
Where do your digital photos live?

Everyone has a camera, but most photos never make it off the memory card they're stored on. CEIVA cycles through every photo in your library, not just one card at a time.
Document your life, wherever you go.

CEIVA is a secure, easy way to bring your adventures and special memories all out daily for everyone to experience. Send photos as you take them straight to your frame to enjoy.