Press Releases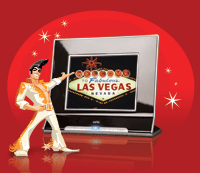 CEIVA invites CES attendees to share their photos of Las Vegas and enter to win a twin pack of connected Digital Photo Frames
Download this image:
high resolution
|
low resolution
view more photos
FOR IMMEDIATE RELEASE
"CEIVA Las Vegas" Photo Contest Kicks Off Today at CES
Las Vegas, NV – January 6, 2010 - CEIVA Logic, Inc., the inventor and supplier of the leading connected digital photo frame, believes that what happens in Vegas doesn't need to stay in Vegas. Because connected frame technology allows for easy sharing of photo memories from frame to frame to frame, CEIVA® announced today the kick-off of the "CEIVA Las Vegas" Photo Contest taking place during the 2010 International Consumer Electronics Showcase (CES) happening this week in Las Vegas.
CEIVA wants CES attendees to share their photos. The "CEIVA Las Vegas" photo contest invites CES show-goers and exhibitors to enter this one-of-a-kind photo sharing contest simply by sending in their photos showcasing their experiences of CES. Each photo shared is an entry toward winning a CEIVA Pro 80 Digital Photo Frame™ Twin Pack with two one-year PicturePlans®, valued at $439.00.
Entry is easy. CES attendees simply email their photos from this year's trade show to CES@ceiva.com by midnight PT on Monday, January 11, 2010. Contest entries will be available through www.ceiva.com and continually updated and displayed on the CEIVA Facebook page throughout CES 2010. The winner will be announced on Tuesday, January 12 at www.ceiva.com.
For more information and terms & conditions on the "CEIVA Las Vegas" Photo Contest, go to www.ceiva.com. Questions about the contest can also be directed to CEIVA Joe "Vegas" via email: ceivajoe@ceiva.com, via Twitter @ceivajoe or to Ceiva Joe on Facebook.
About CEIVA Logic, Inc.
CEIVA, www.ceiva.com, (see-va) the inventor of connected digital photo frames, provides lifestyle-enhancing products that enable families and friends to automatically share and display an endless slideshow of all their treasured digital photos. CEIVA Digital Photo Frames™ with PicturePlan® allow members to send photos directly to the frame from anywhere in the world, store an unlimited number of photos online and enjoy the worry-free PicturePlan® Lifetime Warranty. Patented technology exclusively from CEIVA is designed for every generation to use with ease so that daily photo sharing is always a rewarding experience. CEIVA products are available through the CEIVA Store at ceiva.com and at select retailers. CEIVA headquarters are located in Burbank, CA.
Contact Information:
CEIVA Logic
214 E. Magnolia Blvd.
Burbank, CA 91502
phone: 818-562-1495
fax: 818-562-1491
press@ceiva.com