Customer Care
How do I know what software version my CEIVA frame is on?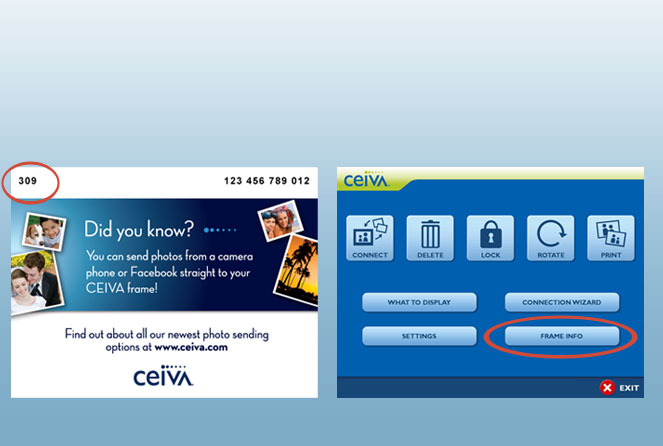 CEIVA 1, 2 and 3
Scroll to the end of your slideshow by tapping the White Button on the back of your CEIVA frame.
All Other Models
Press the Menu button on your CEIVA frame or remote, highlight Frame Info, and press Select. Look for the Software Version header.
How to check your software version
Navigate to the Frame Info screen on your CEIVA frame by following the directions to the right. Your version number will be displayed in the top left corner if you are using a CEIVA 1, CEIVA 2 or CEIVA 3, or under the Software Version header on the Frame Info screen on all other versions.
CEIVA frames get the latest software automatically through PicturePlan® Photo Delivery Service. If your CEIVA frame is unable to connect to update itself for any reason, you can also update your software manually.
Next >
Contact Us
1-877-692-3482
CEIVA Logic Inc.
303 N Glenoaks Blvd STE 200
Burbank, CA 91502
Customer Care Hours
Monday-Friday
9:00 am - 4:00 pm PT